Collection Highlights
---
The HCTC contains garments from the mid-1800s through early 21st century. Objects included in the Collection: women's outerwear, men's outerwear, children's clothes, footwear, hats, undergarments, lace, and accessories.
To see a complete list of items in our collection click here.
---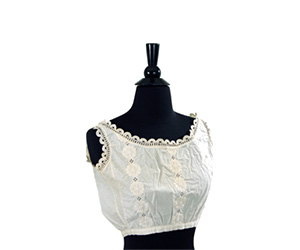 Camisole - Ivory cotton camisole with flowerlet detail.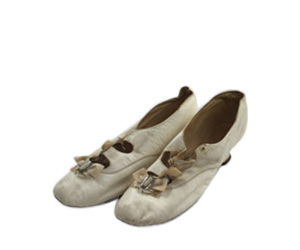 Straight Sole Wedding Shoes - Off-white women's wedding shoes with narrow soles, button straps, and three small bows in row one on each strap. Metal rectangle at center of each bow with a Louis XV style heels.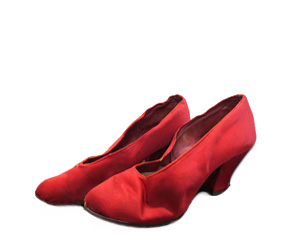 Red Satin Heels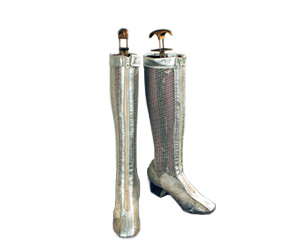 Go Go Boots - Silver mesh boots that have see through shafts and bodies. Cap of shaft is lined in silver fabric. Zipper down front and center of shaft is white and lined in silver fabric and extends to the toebox. Back of shaft has a strip of silver fabric down until the heel.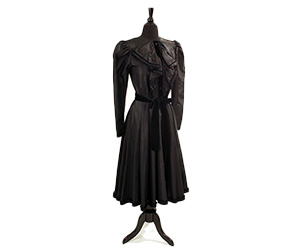 Givenchy Dress - Givenchy dress in a black silk blend with velvet piping and a tied belt.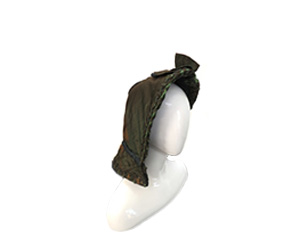 Bonnet - Silk Forest green women's bonnet most likely worn for a wedding.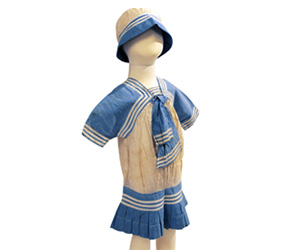 Sailor Dress - White and blue cotton children's sailor dress with matching cap.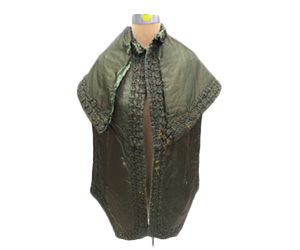 Pelerine - Forrest green silk pelerine or cloak with quilted self ruching trim.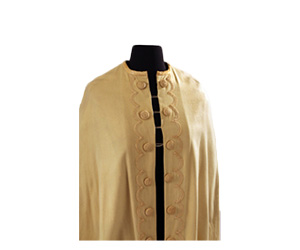 Cape - Tan wool cape with large buttons and passementerie detail.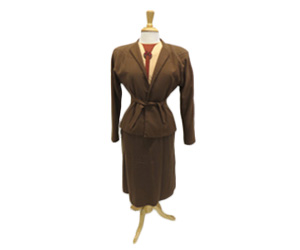 Women's Suit - Chocolate brown woven wool suit. Suit jacket has shoulder pads and skirt has inverted pleats down the front.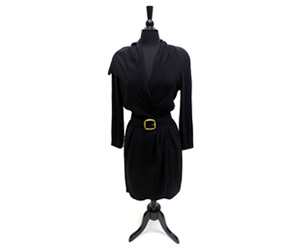 Chanel Dress - Black Chanel dress with matching gold buckle.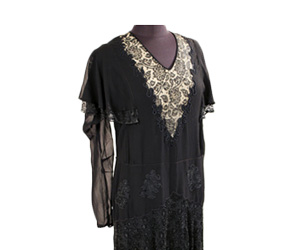 Chiffon Dress - Black silk chiffon dress with lace applique on V neckline with nude under-lying fabric.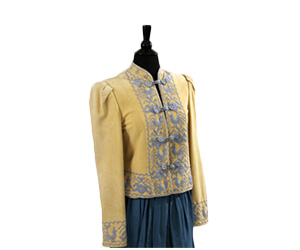 Oscar de la Renta Suit - Tan jacket with ethnic blue embroidery with coordinating pants and skirt.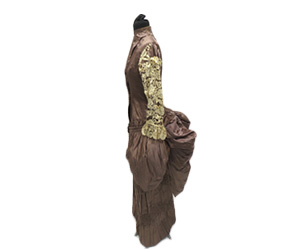 Jacket and Skirt with Bustle - Brown silk skirt with cotton lining and matching jacket. Cream floral lace trim on both silk and lace sleeves and collar.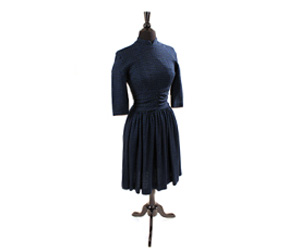 Jersey Knit Dress - Navy Blue and Green checked jersey knit dress by Bobbie Brooks.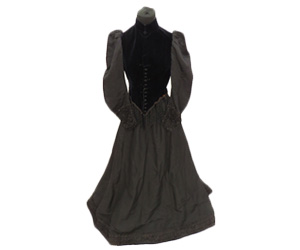 Deep Blue Velvet Jacket - Deep blue velvet jacket with high collar, black leg-of-mutton sleeves, and black beading on cuffs and along bottom hem. Jacket also has hanging beads and rope-style button closures down front.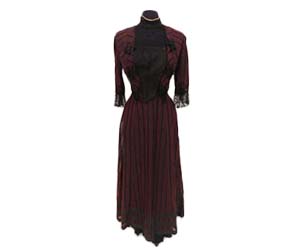 Red and Black Dress - Red and black with lace and passementerie detail.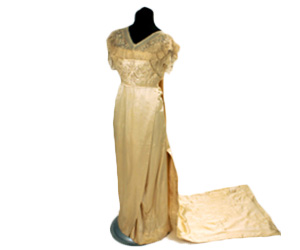 Wedding Gown - Off-white wedding dress with long train and V-neckline. Wedding dress has short lace and beaded sleeves, and bodice is embroidered.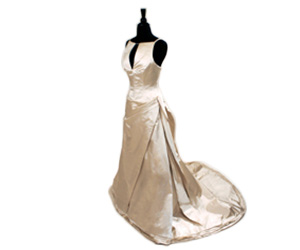 Vera Wang Wedding Gown - Vera Wang Spring 2004 wedding dress with tool used inside to create fullness at the bottom of gown, bow at the side of the left hip, and high neckline with straps in the back.